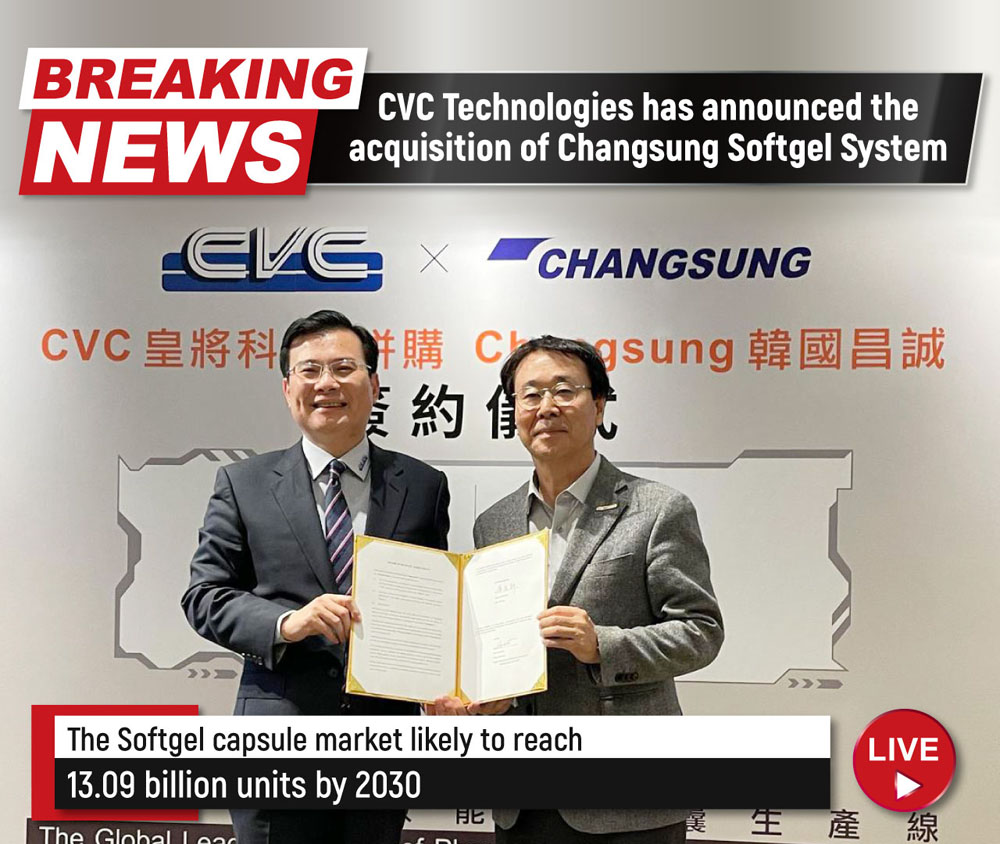 The acquisition of Changsung Softgel System aligns with CVC Technologies' long-term business strategies and direction, and the combination of technologies, drives, and resources will create the synergy needed to provide the best opportunities for success.
This acquisition further enhances CVC Technologies' position as a global leader for packaging machinery, including a focus on being a quality softgel encapsulation process equipment supplier.
Changsung Softgel System has developed advancements in softgel technologies that are in line with the pharmaceutical and nutraceutical needs for a better active ingredient delivery system. These new softgel formulations will improve the delivery of medications and supplements to physiological targets while increasing operational efficiency during the manufacturing process. Softgels have been available as a means for delivering drugs to the human body for a long time. Recent advances in technology and the availability of vegetable-based gelatin mean that the softgel market is likely to grow exponentially in the near future.
In addition to the strong demand for healthcare products, the softgel dosage form offers several advantages over other oral dosage forms, such as improving the oral bioavailability of a poorly soluble compound as a unit dose solid dosage form, flexible shapes that make softgels easier to swallow, and the ability to deliver low and ultra-low doses of a compound or low melting compounds, as well as immediate absorption by the body.
The compound annual growth rate of the soft capsule equipment market has reached 10%, with the Softgel capsule market likely to reach 13.09 billion units by 2030.
After the acquisition of Changsung, CVC Technologies is poised to take advantage of the future in softgels by focusing on the upstream softgel production line.
Kevin Chang, the General Manager of CVC Technologies' headquarters in Taiwan, states that the dual brand strategy will be used to enhance the presence in the markets. CVC-Changsung will expand to the main markets of North America and India, offering its entire range of products with a complete service plan. It will work closely with its partners and customers to capture the world's largest market share in softgel encapsulation and packaging line supplier within three years.