CVC Technologies
CVC Technologies was founded in 1979, CVC has been committed to a professional manufacturer of pharmaceutical packaging equipment. Such as capsules and tablets counting machine, liquid filling machine, powder filling machine, bottle unscrambler, air washing machine, labeling machine, cotton inserter, desiccant inserter, aluminum foil sealing machine, etc.,
Quality, value and service are the corporate philosophy. Providing excellent equipment and technical services, maximizing customer productivity, reducing operating costs and ensuring quality.
International-standard pharmaceutical regulatory certification
CVC provides pharmaceutical, biotechnology, nutraceutical and other packaging machinery and equipment and production packaging lines. And so on, we are constantly improving in technology, which is comparable to European and American grade specifications and sold to all parts of the world. The quality of the equipment is strictly controlled. All pharmaceutical packaging machinery and equipment have obtained international certification standards, such as ISO 9001, CE, FDA, cG.M.P., PIC / S GMP ...
Total solution for pharmaceutical packaging
Adhering to the corporate philosophy of integrity, challenge and innovation, honest and practical manufacturing, research and development of innovative technologies, and the ability to respond to the challenges of market changes, we can stand in the fiercely competitive market. According to customer needs, we provide customized solutions for production packaging lines to meet the requirements of various automated packaging lines.
Tablets/capsules counting line: bottle unscrambler→air rinser→dessicant pouch/canister inserter→ tablets counter(12/16/24 channels) →cotton inserter→capper→aluminum foil sealer →labeler

Liquid filler: bottle unscrambler→air rinser→liquid filler(4/8/12heads) →capper→labeler

Powder filler: bottle unscrambler→air rinser→powder filler(4/6heads) →capper→labeler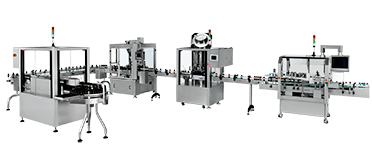 Perfect Sales team
CVC headquarter is located in Fontana, CA and we have sales and manufacturing facilities in multiple countries around the world. Global manufacturing center is in Taichung, Taiwan. CVC also has subsidiaries in Kunshan, China, Mumbai in India and service office in New York, USA.
CVC is specially intended to seek and approach potential sales, service and vendor partners. The goal of CVC strategy is to establish strong business network between customers, partners and vendors throughout 120 countries worldwide.